When we say "gamification marketing" marketers immediately think of loyalty programs that involve gamification with tiers, points & badges. 
What companies and many marketers fail to realize that gamification need not always be a long term program or something that needs months of investment & effort.
Infact, in today's  shrinking attention spans and where user loyalty has been taken over by engagement, companies need to look at gamification as a tool to create quick & likable marketing campaigns. 
I am thinking more "Shopee Style" games, incentives, rewards etc. As we all know the heart of any new-age B2C company today should be "Customer Experience". 
So the fact is, that gamification marketing can be used beyond loyalty. There are a number of creative ways to achieve User engagement and retention using Gamification.
To illustrate, here are a few gamification marketing examples that you can plan around Christmas to remain competitive & relevant.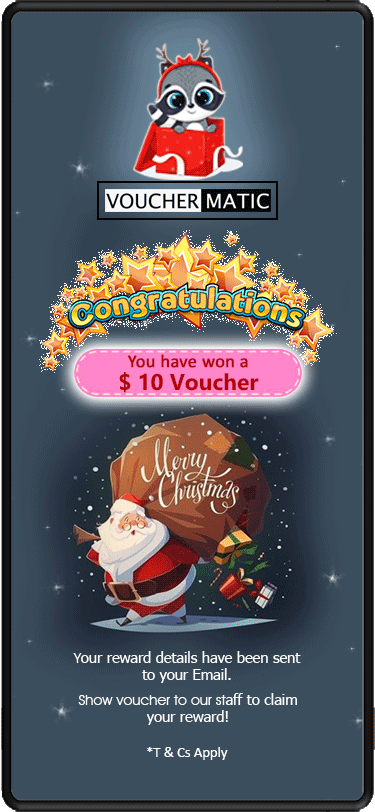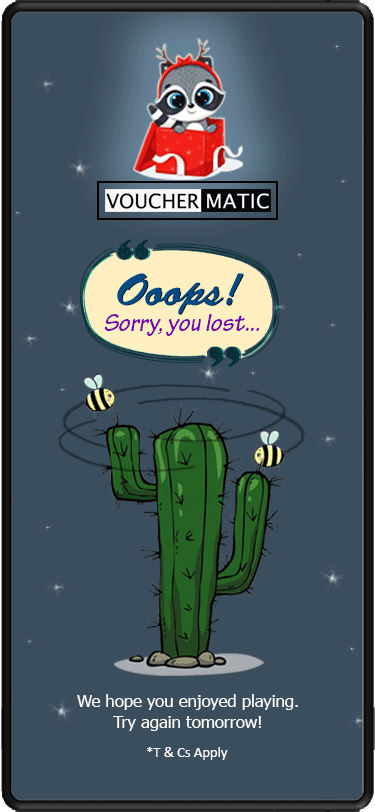 As the name says it all. Wheel of fortune can allow your customers to go into your App, website or in-store, Spin the wheel & stand a chance to WIN.
Spin the Wheel today has evolved into the digital landscape, as a part of loyalty programs and online events. This has not only helped to retain the popularity of the game itself, it has also brought in new ideas, designs and features into the game.
Today's shoppers are deeply attracted to innovative and appealing business incentives. With a well-designed mobile Spin The Wheel program in place & attractive prizes, you can ensure that shoppers would be more willing to shop in your business.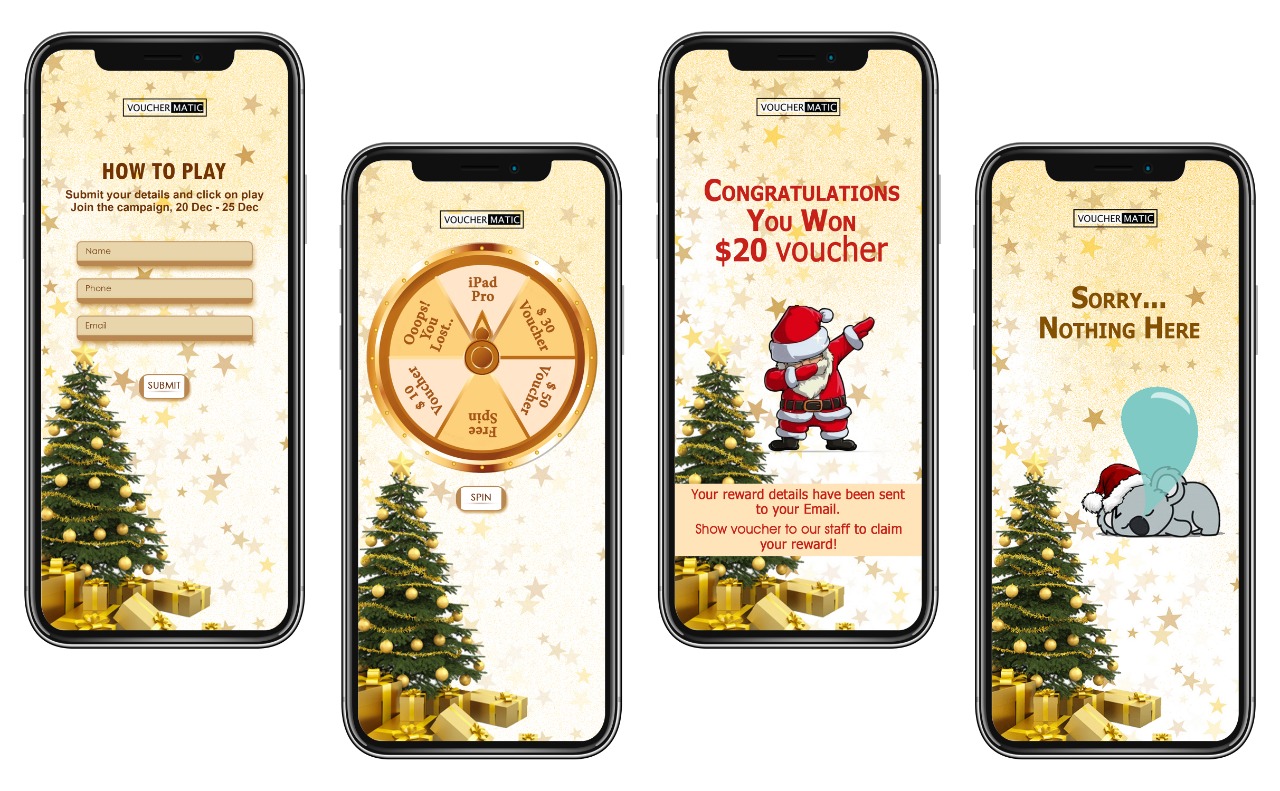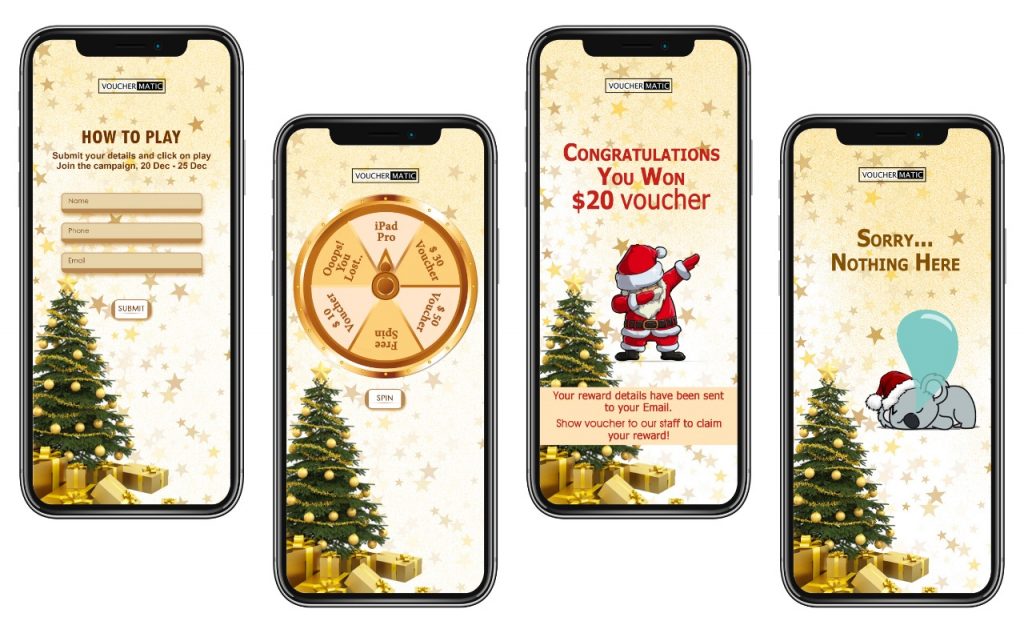 Christmas Special Scratch & Win
Simple, accessible and addictive – these three keywords perfectly describe the Scratch & Win gamified rewards. Everyone is familiar with the basic rules of scratch the card voucher, whereby,  you pick a card, scratch the panel and hopefully, you beat the odds and win the grand prize.
The structure of this game is so minimal, and yet, it is one of the most effective and intriguing gamified loyalty programs in the market.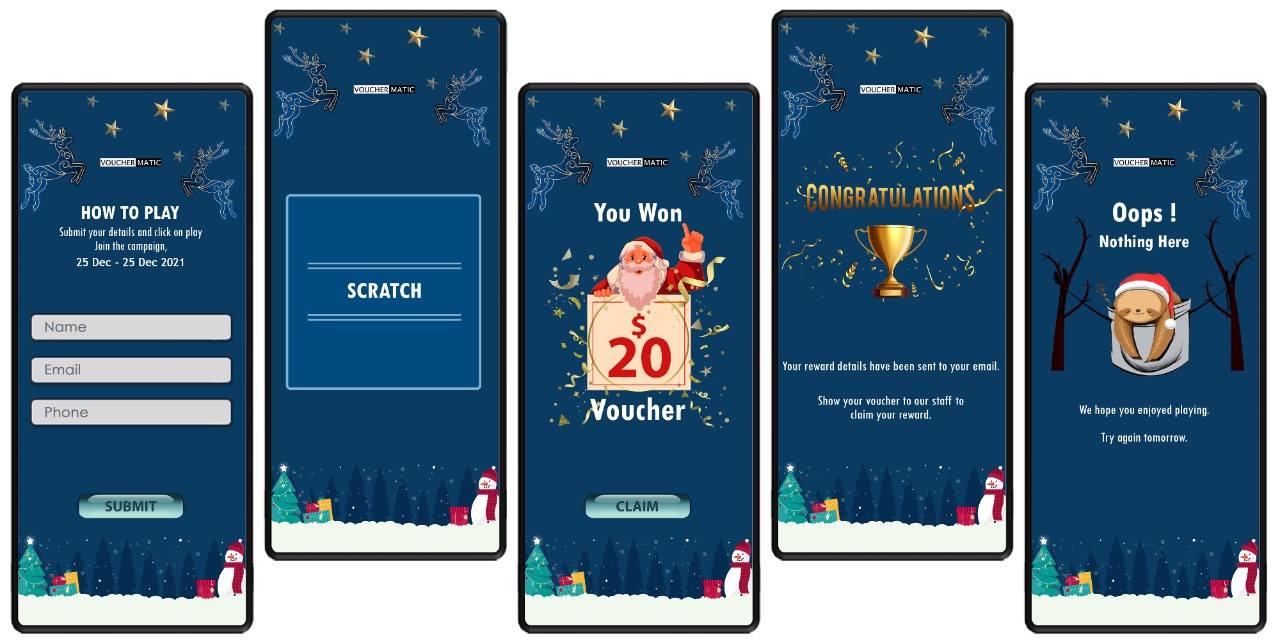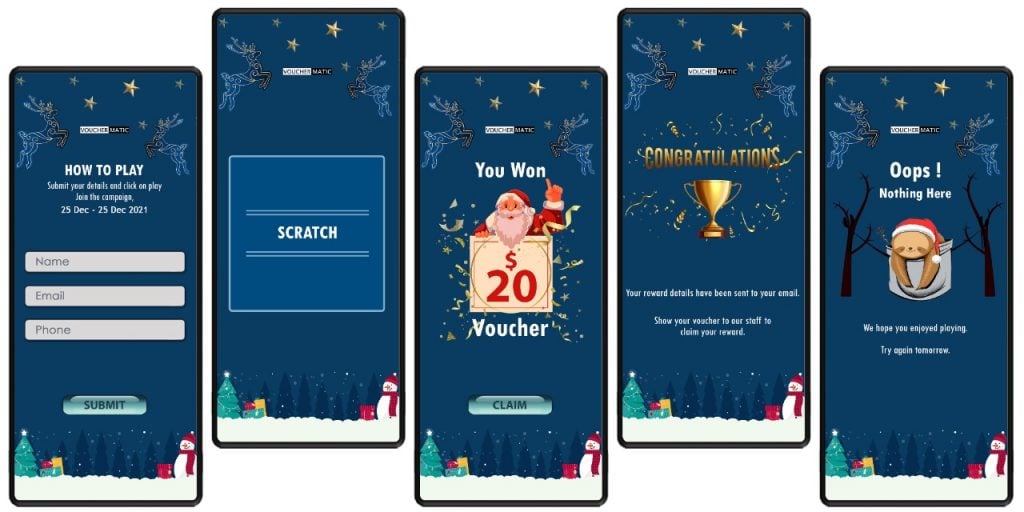 If your objective with your x'mas marketing campaign is to increase app downloads or increase in-app engagement or encourage daily website visits then this is the game you should be looking at.
Find the Prize game can help you encourage daily logins to your app/ website to play the game.
Here's how:
During the 10 days of Christmas, each day your customers login to your app or website
And get 3 chances to open a gift box with a surprise reward
On wining, they can immediately redeem the prize within the app or your website or In-Store.
Do have a look at
our case-study
 here on how we helped a large enterprise in Thailand to implement "Find Prize" & increase app engagement.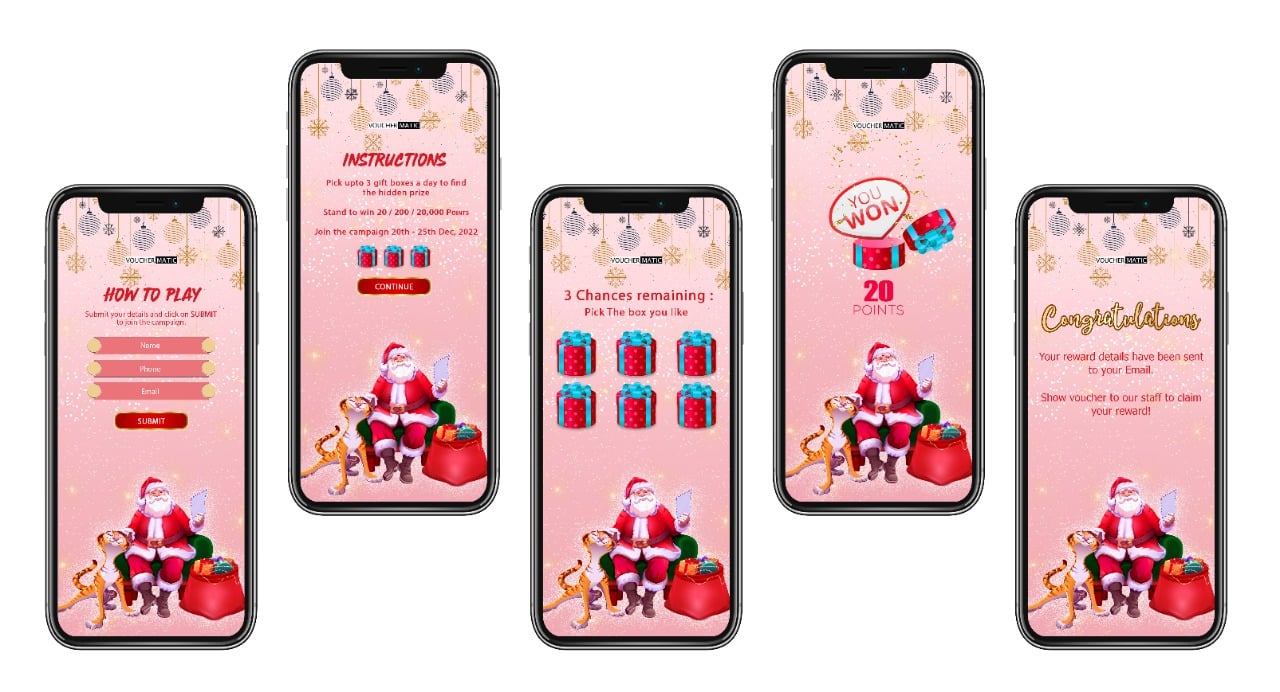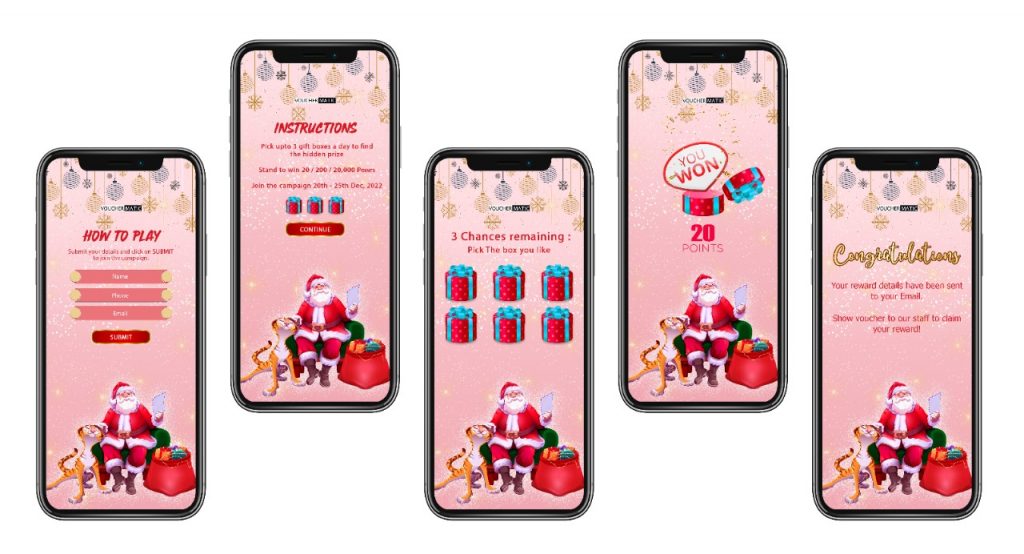 Give your customers a chance to test their fortune & win! Make them feel special with a "Sure Win" fortune cookie game!
If planned correctly A "Sure Win" game can accelerate your customer's loyalty lifecycle encouraging your newer customers to shop more with your brand. 
Integrate this game into your campaign to give your customers an interactive chance to win a voucher, gift card, or prize!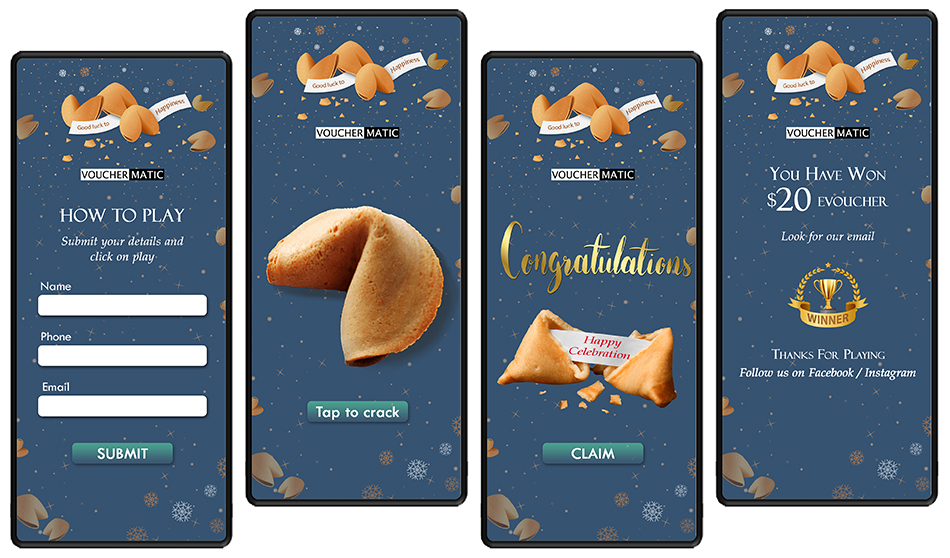 Holiday Season Digital Lucky draws
A Digital Lucky Draw is a seamless, swift and effective method of conducting online lucky draws online through video conferencing platforms or live streaming. Connecting both the audience and the company, digital lucky draws add to the excitement and engagement of winning prizes in this luck-based game.
Our lucky draw tools makes your virtual session more exciting, be it for your customers, partners or internal company DnD's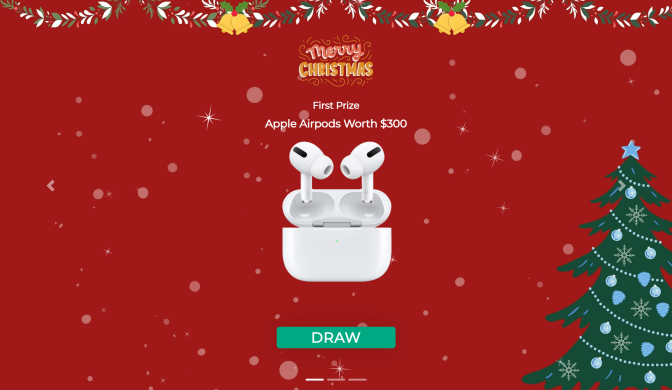 To summarize, 
Gamification marketing refers to adding the elements of a game into a non-game environment. So depending on what your objective is:
plan your campaign by selecting a mini-game,
decide on the customer journey
get the prizes/ rewards in order 
And plan out your budgets.
If you are not sure where to start, connect with us over a cuppa.
JUMP ON-BOARD WITH VOUCHERMATIC

If you're planning to launch your voucher/coupon campaign or want to implement gamification features and are still undecided about the system. Please get in touch and let's discuss your reward strategy!