When you think about Spin The Wheel game, it creates a feeling of excitement, doesn't it?
Just like roulettes in casinos, Spin The Wheel gives players a trilling sensation of having the chance to beat the odds and win the grand prize.
Spin the Wheel today has evolved into the digital landscape, as a part of loyalty programs and online events.
This has not only helped in retaining the current popularity of the game itself, it has also brought in new ideas, designs and features into the game.
Spin The Wheel vouchers or Spin & Win campaigns hold a prestigious place in being one of the top tier options for a business' gamified loyalty programs after lucky draw. Being both easy to play and popular amongst shoppers, businesses implement Spin the Wheel campaign to gamify customer behaviour.
If you are thinking of implementing an spin & win for your event or as a part of your loyalty program, here are 2 ways how Vouchermatic can help you implement it. These are easy to implement & can be completely customised in regards to your business' requirements:
1. Mobile Spin & Win voucher
 Mobile Spin & Win programs are a great way for businesses to attract their customers' attention and promote loyalty among their customer base.
The MOBILE SPIN & WIN campaign can motivate your customers to spend a certain amount in store to be eligible to participate in the game & win a voucher or small value rewards.
Simply put:
The customer spends amount "X" in store
Upon payment completion, the cashier can share the QR code with the customer to participate in the game
The customer scans the qr code, fills in his/her particulars and spins the wheel for a chance to win a prize
When a customer wins a prize, they can either receive their reward vouchers via SMS or by email.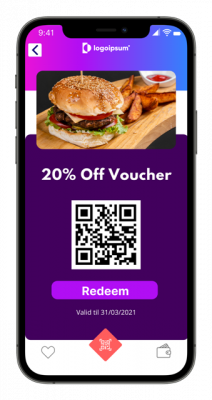 Mobile Spin & Win program can not only help you to engage with your current customers in a fun and enticing way, it can also attract new customers with gamification elements and personalized incentives that comes with mobile Spin & Win programs.
Today's shoppers are deeply attracted to innovative and appealing business incentives. With a well-designed mobile Spin The Wheel program in place that has attractive prizes, you can ensure that shoppers would be more willing to shop in your business.
2)Spin The Wheel Retail/Mall
The second version of Spin The Wheel programs allows you to attract customers at an event-size scale. By hosting your Spin The Wheel game on a large screen in your stall, at an event or the mall atrium, you can attract tons of shoppers to participate for the grand price.  
Spin The Wheel for Retail & events can also motivate your customers to reach spending requirements in order for them to participate in the game.
Simply put:
The customer brings their receipt to the counter/reception as a proof  of their spend
They then submit their information via a digital form to participate
When the event starts, their names/ or draw number would be shown on a large screen along with the wheel as it spins on the screen to pick a reward
If a customer wins , his/ her name/ draw number will be posted on the screen as a winner, notifying them to check their email/sms for their reward
Unlike mobile Spin The Wheel, where it gives a personalised gamified experience to customers, Spin The Wheel  for retail & events allows for large-scale engagement with your customers and new shoppers.
As this version can easily gain the attention of shoppers, & encourage them to meet the minimum spend in order to participate & stand a chance to win.
Furthermore, by hosting such events on a frequent basis, e.g. 1 time per 2 weeks, you can expect your customer base and retention rate to increase rapidly.
In conclusion, Spin the wheel games can be a great way to engage with your customers, as well as to promote loyalty amongst your current customers.
Whether it be providing, real-time incentives or increasing engagement through gamification, Spin The Wheel gamification allows for an ordinary loyalty program to be fun and enticing for your current customers and shoppers.