In the past customer loyalty came from a sense of comfort & familiarity with the brand, but today, due the pandemic, timely customer Engagement & personalised offers have taken over and become the drivers of loyalty.
Marketers use festive season to plan big budget marketing campaigns and rightly so – According to eMarketer in 2019, festive season sales surpassed the trillion dollar mark for the first time, with average US spending coming to $1,536 for every household.
With Chinese New year (also known as Lunar New year) around the corner, we thought this would be a great opportunity to share with you CNY Gamification marketing ideas that are engaging & easy to implement.
Chinese New Year is an important holiday not just in Asia but in many parts across the globe. Big brands have started drumming up their marketing campaigns for CNY especially e-commerce companies and thanks to Shopee, "collecting vouchers" before the holiday season has become a popular activity for e-shoppers. It's something everyone looks out for these days.
So this is definitely a great time for brands to tap on the opportunity of "festive mood" and put their best offers/ vouchers/ coupons/rewards forward.
Here are some of our CNY themed games & marketing ideas to help you engage your customers & bring them back to your brand!
Gamification increases user retention, makes the user experience more enjoyable. Gamified elements work as a powerful tool for engaging your customers. Make digital red-packet & winning a vouchers more exciting with this Digital Ang Bao game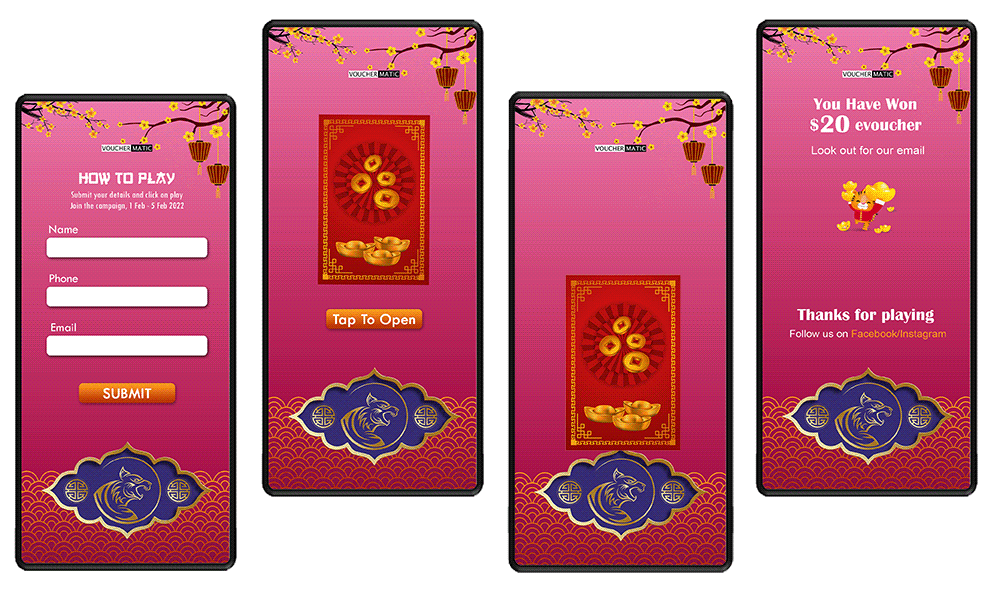 Digital "Scratch & Win" vouchers are a creative marketing technique to captivate your users especially millenials & GenZ.  With Vouchermatic we make it easy for you to create your first "Scratch & Win" Campaign. Be in control of your rewards, create flexible rules and plan multiple campaign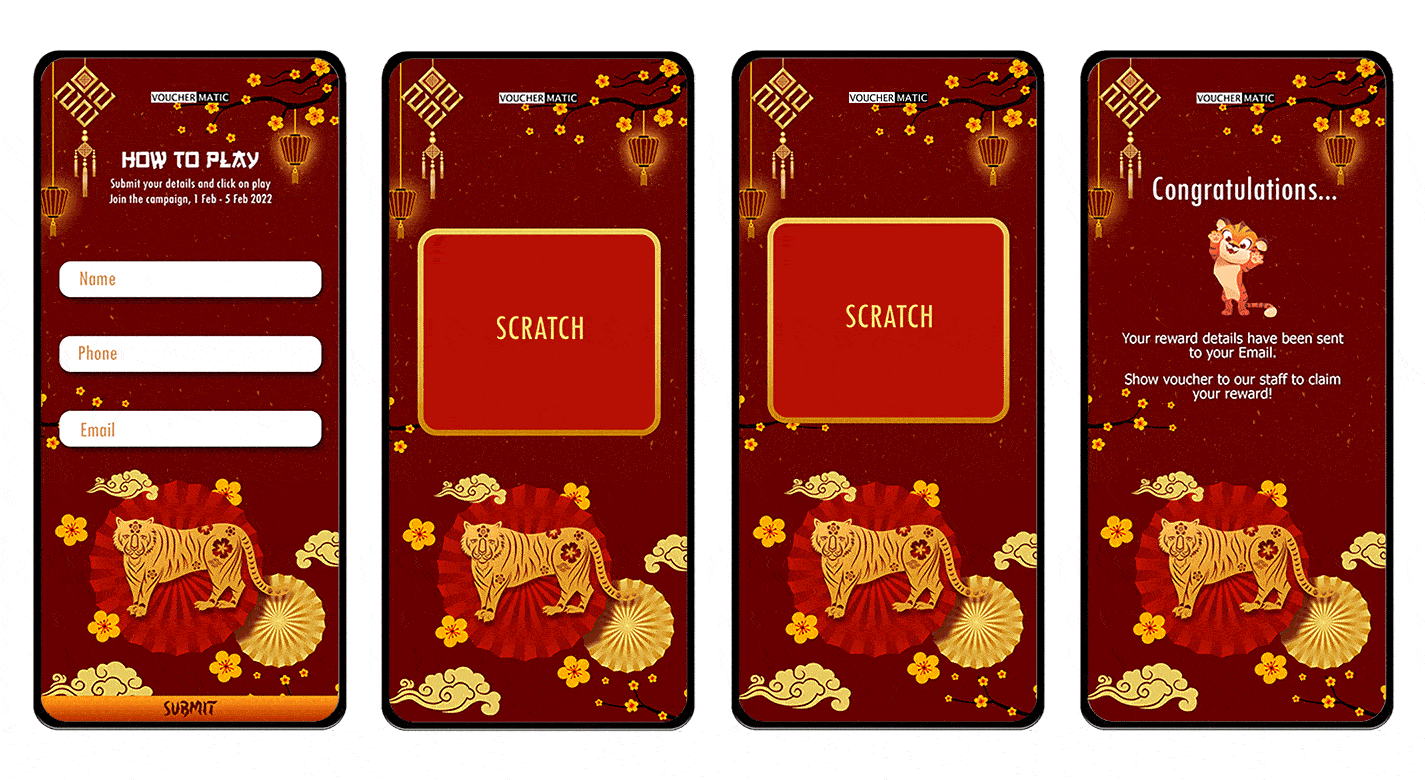 Whether it be for virtual CNY events or a retail CNY campaign or online flash CNY sales, MYSTERY GIFT BOX game can be implemented anywhere to boost sales . Its fun, engaging & can be completely custom designed to be in-line with your organisation's branding.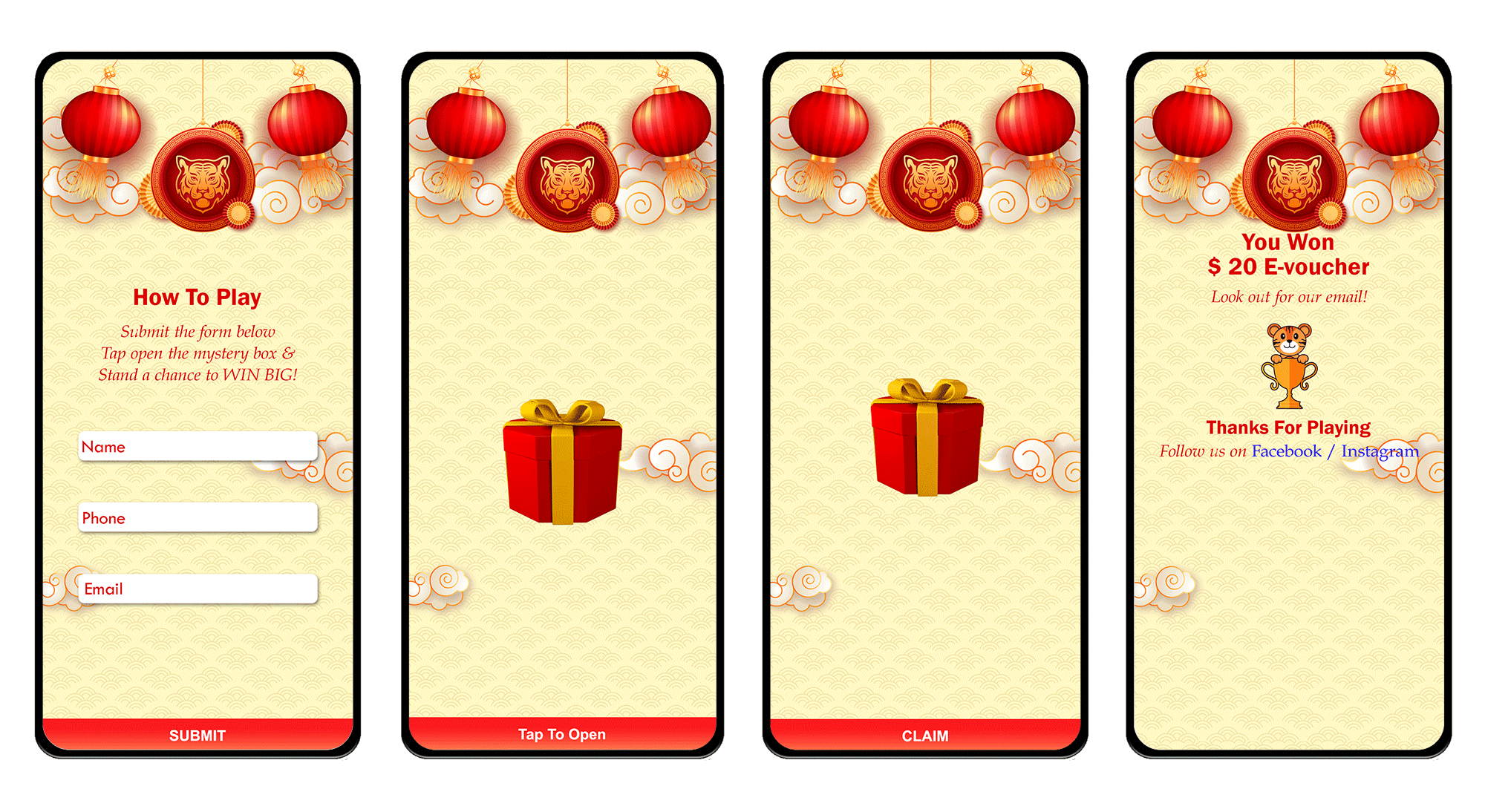 CRACK OPEN A FORTUNE COOKIE 
Integrate gamification into your campaign to give your customers an interactive chance to crack open their fortune cookie & reveal exciting incentives such as an e-voucher, gift card, or free offer!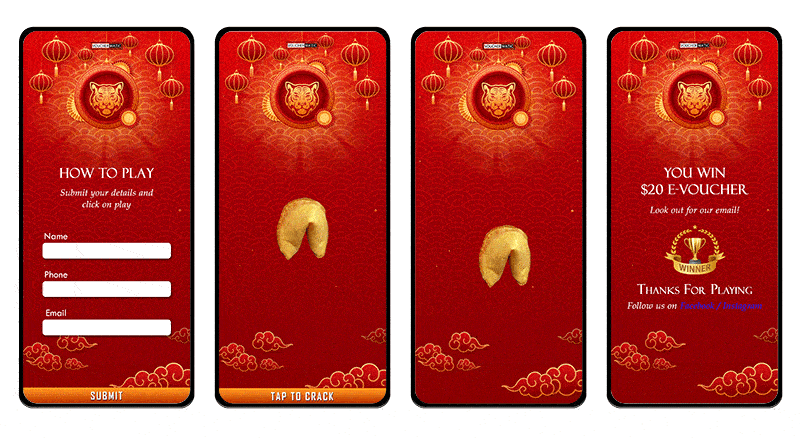 "Wheel Of Furtune" or "Spin The Wheel" mobile vouchers are a creative marketing technique to captivate your users.
With Vouchermatic we have made it easy for you to create your first "Spin the wheel" Campaign.
Be in full control of how many vouchers to offer, who to offer them and how often customers win. Create your own reward rules and frequency.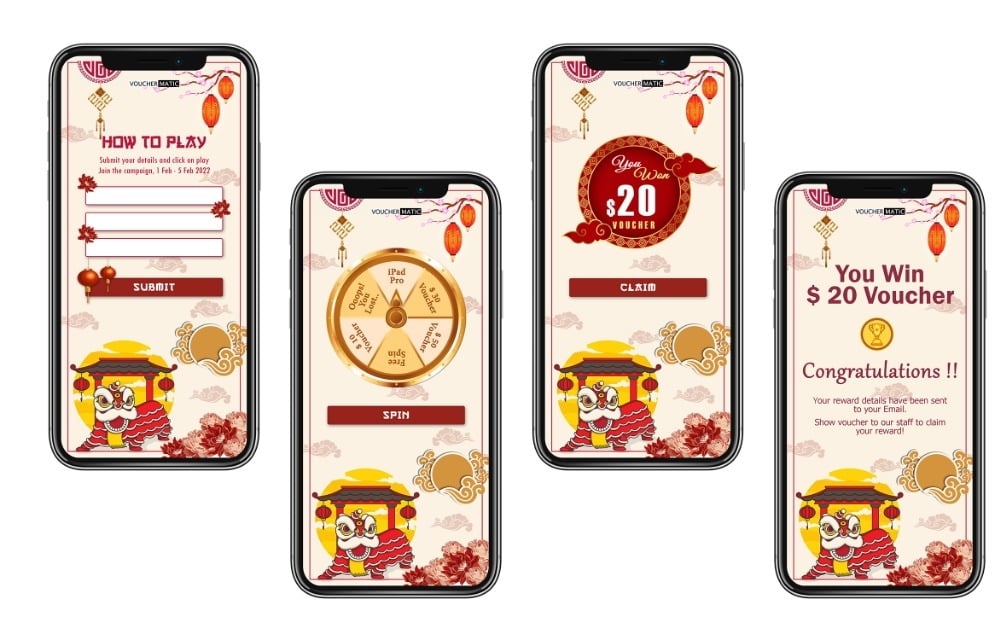 A probability game! Get your customers to test their luck, where they get a chance to open any three gift boxes with possibility of winning a surprise discount, coupon or voucher.
Do remember, Chinese New year (Lunar New year) is not just about the red packets. It is a  festival of togetherness, family & community. So when you plan your CNY gamification campaign make sure that your messaging focuses on the celebrating the unity & appreciating the togetherness.