60% of consumers love receiving digital coupons, and 77% spend $10-$50 more than intended when redeeming coupons (Spendmenot). With such positive statistics in favour of coupons, we think it is crucial to have a reliable coupon management system & an engaging rewards program to help grow your business.
Vouchermatic: Coupon Management System
Vouchermatic offers benefits such as 
end-to-end tracking to better understand consumers' path-to-purchase,
customer grouping to offer personalized e-coupons relevant to that group 
integration with your existing systems for a seamless user experience
Benefits like the above allow you to maximise your business potential by remaining competitive in the contentious retail & FnB market.
In addition, our coupon management system also streamlines enterprise processes. For instance, Vouchermatic provides audit trail backlogs to make incentive marketing more manageable for your business.
We believe that some of these functions/ features are critical to any coupon management system today. 
If you are planning to invest in a incentive system, be sure to check if the system has these key features:
1. Cloud-based & Open API
 A cloud-based and Open API system provides scalability and flexibility, allowing you to utilise it in a variety of use cases and upgrade it as needed.
It also allows your coupon management system to be developer-friendly. This means ease of integration for your developers. 
Effortlessly sync your data from CRM, BI sites, product catalogues or any of your existing systems. With a turn-key API first platform, your development costs will in turn be lowered since the whole process is uncomplicated but also fully customisable. 
2. Multiple redemption methods
With multiple redemption methods, your coupon management system should support a variety of use cases. This means that coupons should be easily redeemable regardless of your existing systems.
For instance, Vouchermatic offers the flexibility to select from multiple redemption methods, you may choose to integrate the system with your POS to offer a seamless redemption process. Alternatively, you may choose a redemption method that does not require any hardware or integration and that allows cashiers to quickly validate and redeem vouchers hassle-free. In turn, queues are shortened, and customers enjoy an efficient redemption experience. 
3. Distribution via multiple methods
Similarly, your coupon management system should support various issuance methods such as SMS, email, and in-app. A study by Juniper Research revealed that mobile would account for nearly 80% of all coupon redemptions by 2022. As we move towards smartphone usage as a mainstay in commerce, coupon distribution methods have to keep up.
Last year, 77% of consumers expressed frustration about not having coupons available to them when they needed them. This was found to be a key issue in coupon use and is one that can be easily fixed with multiple distribution methods. Increase profits and brand awareness by ensuring that your coupons reach customers as intended. 
Automated issuance provides a great deal of convenience to your marketing campaigns, making them more effective. Lower operating costs, and reduce risks as well as complexity by moving from manual to automated coupon issuance. 
With Vouchermatic, marketing departments can tailor omnichannel coupon experiences with automatic coupon distribution that is triggered by customer interaction. Here are some examples of automated campaigns:
Attract new customers by incentivising member signups. Customers will be delighted to receive instantaneous rewards upon signup that they can use to make their first purchase. This also leaves a lasting impression on customers that will help them remember your brand the next time they want to make a purchase.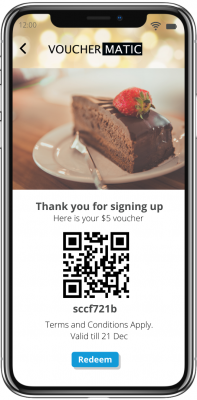 Offering event-based rewards
Attract customers to your product and increase brand awareness during events such as birthdays, anniversaries, or holidays. On product launches, for instance, a limited-time-only incentive automatically delivered to your consumer base helps attract attention and purchases. This will help you establish new products and make customers feel appreciated.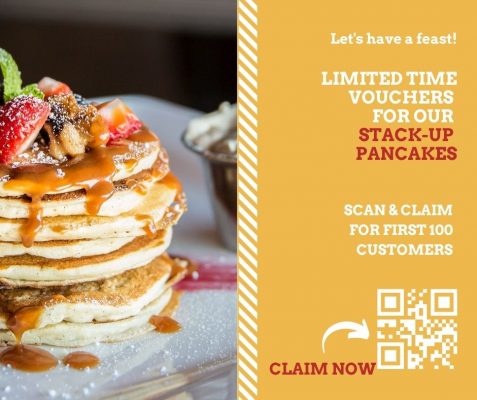 Rewarding your loyal customers
Encourage loyalty in your customer base through automated incentives. The system detects patterns of loyalty in customer behaviour such as repeated purchases. Rewards will then be sent to these customers. As 50% of customers are more likely to visit a store that they have a coupon for, this incentivises them to continue to purchase from the store.  
Research shows that 64% of CPG companies use trade funds to cover deductions from counterfeit coupons. The issue of coupon fraud takes away financial resources and valuable time from companies, but this can be avoided with the right coupon management system. There are multiple methods to preventing fraud within the system, such as:
Randomly-generated coupon codes
Much of coupon fraud occurs when fraudsters guess coupon codes to access promotions not meant for them. By randomly generating a code that is about 8-12 alphanumeric & special characters, your coupons become more secure and unguessable. This ensures that your promotions are only extended to your target audience. 
Safely test promotions in a staging environment
Coupon management systems that offer a sandbox as part of anti-fraud measures minimises any room for error in your campaign. Ensure that your campaign runs smoothly with smaller events before the full campaign release to reduce risk. 
Create an effective, fully customisable incentive campaign with the right coupon management system.
With a system like Vouchermatic- You can create multiple offers, manage them & market them independently. Vouchermatic offers advanced incentive marketing options that bring your business the results you desire.