What are Intrinsic Rewards?
As complex as it sounds, intrinsic rewards, put simply, are rewards and incentives that are intangible. You cannot see nor touch them, but they are a source of recognition that induces a sense of achievement and satisfaction in the recipient. For example, intrinsic rewards can be in the form of loyalty points and loyalty stamp cards. Intrinsic rewards such as a loyalty stamps or points etc create an urge to return to your restaurant frequently in pursuit of collecting enough stamps or points to redeem a reward.
Now, I won't dive into the specifics about the psychological aspect of customer behaviour in this article. Instead, we will discuss how intrinsic rewards and gamification can complement each other to help your restaurant improve customer loyalty- and why it works so well.
Gamification is a powerful tool that can be used to build customer loyalty.
For restaurants, a common gamification example is a loyalty stamp card. Customers collect a stamp for every time they make a purchase at your restaurant. Once they have accumulated 'X' number of stamps, they are eligible to redeem a reward such as a free meal or a discount.
The gamification element of this example is that customers are immersed in this game of pursuit after rewards for completing "levels". The truth is that that most customers are not concerned about how much they save from loyalty programs but more about chasing the reward at the end of the finish line. The rush of excitement as they gradually make their way to the prize stamp fuels them to keep coming back to your restaurant. Once they finally reach the prized stamp, Customers feel a sense of accomplishment and recognition for their efforts. At the end of the day, loyalty cards and gamification hook them back to your restaurant and the cycle repeats itself.
There are countless ways gamified marketing can benefit your restaurant. Let us help you list some intrinsic reward ideas for your restaurant.
Let's say you are the restaurant owner of "The Burger factory" and you are looking to
1) Attract new customers
2) & boost sales of your awesome burgers
Here is a campaign designed to help you meet these objectives using Intrinsic rewards & Gamification:
1. Every 20th Burger is FREE
According to Invesp, 69% of consumers say choice of retailer is influenced by where they can earn customer loyalty/rewards program points. This implies that implementing a loyalty stamp program for your restaurant is an effective marketing strategy to improve customer loyalty and retain customers in the long-run. You can award a burger stamp for every time they purchase a burger at your restaurant. On every 20th burger stamp, the customer will be able to redeem a free burger. This loyalty program concept is simple and you can switch up the interval between each redeemable reward and set any reward you think is appropriate as long as it is enticing enough to keep customers coming back to your restaurant.
2. Free Cheese Fries with every 10th Stamp
Customers may get exhausted or give up halfway through their loyalty card journey. Thus, you want to offer small sub-rewards along the way as a motivational tool. For example, you could reward free cheese fries with every 10th stamp. Small rewards along the way can make a big difference by keeping them engaged and pushing them towards their 20th burger stamp goal.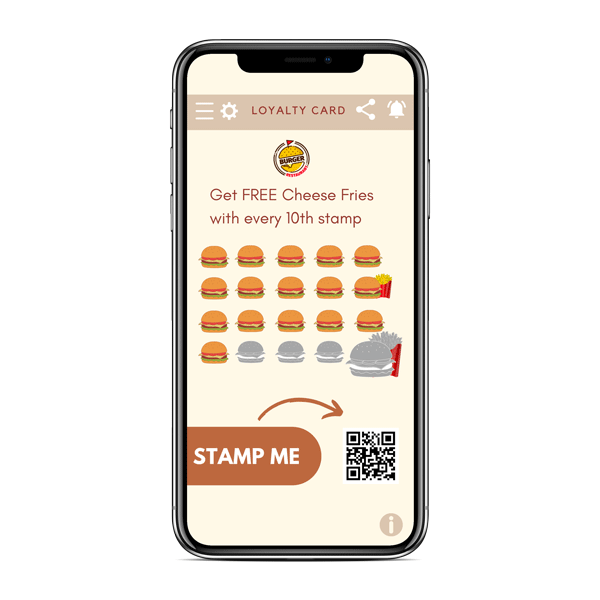 3. Move up a Level & Get More Perks
On the chance that your customers finish collecting all the stamps on their loyalty card, their loyalty member status will be upgraded by a tier higher where they are entitled to greater benefits. For instance, instead of on every 20th stamp, their higher-tier member status will entitle them to a free burger on every 10th stamp. Cheese fries can be substituted with an item of higher value like a hotdog that is more filling for the stomach. Of course, membership tier benefits do not stop there. The higher tier you are, the greater benefits you receive and shorter intervals between reward stamps. (e.g free burger every 5th stamp and a free drink with every 5th burger and so on).
4. Upsell with Mini-game elements
Upselling is a sales strategy used to persuade a customer to purchase something additional or more expensive. Digital mini games can promote upselling as an add-on to your marketing campaigns. At every table or via your periodic marketing campaigns, customers will stand a chance to win attractive rewards by playing these fun and interactive minigames.
A few popular examples of minigames are Spin-the-Wheel, Shake the Tree, and Scratch cards. They engage your customers by inducing a rush of excitement and thrill and establishes an emotional bond between them and your restaurant. You can offer low-value rewards such as Drinks 1 for 1, or a free salad or a free cheese fries with min. $30 spent.
A popular example of companies executing the upselling strategy with minigames effectively is Shopee. Through the Shopee app and especially during periodic marketing campaigns such as 11.11 sales, users can play simple minigames to win prizes or points that can be exchanged for vouchers and incentives. Shopee rewards its users with Shopee coins or vouchers that will motivate them to purchase more to make use of these discounts.
A gamification solution paired with intrinsic rewards can bring many benefits to your restaurant. When executed properly, gamified marketing promotes more repeat visits, enhances customer loyalty and boost sales along the way. At the end of the day, a gamification solution should be engaging for your customers and prompting them to return to your restaurant.
With the above intrinsic reward ideas discussed in this article, you can create your personalised marketing campaign tailored to your restaurant and menu or kickstart a loyalty program for your restaurant. In today's restaurant industry, if you fail to implement a gamification solution to your operations, you may fall behind the competition quickly.
Gamification With Vouchermatic!
Looking for a gamification system for your next campaign