Statistics show that the probability of selling to a new customer is only between 5% to 20% as compared to selling to an existing customer, where the probability is at a high rate of 60% to 70%. 
It is also difficult to retain your customers, as the average customer retention rate across most industries is at a mere 20%. (markinblog)
As such, many businesses today have turned to loyalty programs to keep their customers engaged & hooked on to their brands. 
Some of the most successful loyalty programs today are run by companies such as Shopee, Starbucks, Sephora etc.
We believe a well-defined loyalty program not only creates an intrinsic value, it can also help your business drive sales, attract and engage more customers.
A well-crafted customer loyalty program, starts with having a proper Loyalty Management System in place. 
What is a Loyalty Management System? How does it work?
A Loyalty Management System allows your business to track and identify frequent customers that have been consistently purchasing your goods and services. 
In return for their loyalty to your business, you can reward your customers with benefits, such as special discounts, gift cards, loyalty perks and so on. 
These benefits can be broadly categorised under 2 groups intrinsic & extrinsic rewards. Read more about intrinsic & extrinsic rewards here
This would not only aid in the retention of your current customer base, it can even attract new customers who are enticed by your business' impressive loyalty program
Benefits of a loyalty programs
Simply put, loyalty programs enable your business to build a stronger relationship with your customer by giving them a reward or a chance in winning something in exchange for engaging with your brand or shopping from you.
Here are some benefits of a loyalty program :
1. Increasing sales:
Loyalty programs encourage repeat purchases & help you retain your customers. Customer retention helps to increase sales & profitability. 
Over 70% of consumers are more likely to recommend a brand if it has a good loyalty program. (Bond)
2. Attracting new customers:  
Without a doubt, loyalty programs are one of the best marketing tools to attract new customers.
Study shows that 58.7% of internet users believe earning rewards and loyalty points is one of the most valued aspects of the shopping experience.  (E-marketer).
It is important to state here that new customers are unlikely to join your loyalty program in the first visit and they may not spend the minimum value required to enroll into your loyalty program. Therefore offering small value incentives in return to join your loyalty program is a great first step to begin your relationship with the new customer.
 Here is one of our case-studies on how we helped a retailer acquire hyper local data and enrol new customers in their loyalty program.
3. Create brand ambassadors: 
Having a loyalty program can not only help you retain customers, but also create Brand ambassadors for your business.
According to a Nielsen report 92% of consumers believe suggestions from friends and family more than advertising and 74% of consumers identify word of mouth as a key influencer in their purchasing decisions.
By now if you are convinced that you do need to implement a loyalty management system, here are some suggestions for your customer loyalty program:
Tiered Loyalty Programs allow your customers to measure their engagement with factors such as expenditure, usage or interaction with your brand. 
The higher a customer's engagement, the higher the "tier" or level they will be in.
Exclusivity -Tiered Loyalty Program helps your business to add levels of exclusivity and status into your program, as customers who engage more with your business are rewarded with perks and benefits that ordinary customers would not receive.
Gamification -Tiered program elements, such as tier list, progress bar, tier ranking and so on creates an extrinsic motivation for your customer. This can make the process much more enjoyable, thus enabling your business to encourage customers to "play" more by engaging more.
Tiered loyalty programs can be applied in almost any kind of businesses & industries including hospitality, FnB etc. It works best in businesses that provides shopping goods, such as clothing, makeup, bags and so on.
2. Point-Based Loyalty Program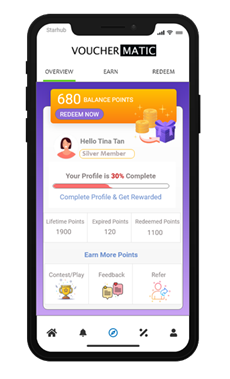 The plain jane of loyalty programs, the point-based loyalty is both simple to understand for your business and customers.
Simply put, when a customer purchases from you, he or she gets points in return. These points can be redeemed for gifts, discounts, products and so on. 
The higher the customer spends, the more points they receive.
Point-based loyalty programs hold a high place in Loyalty Management as it is fairly simple & easy to implement. As such, small businesses can start out with point-based loyalty programs, so that they are able to gradually build up their customer base and maintain their customer retention rate.
3. Stamp Card Loyalty Program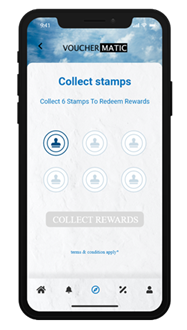 Another simple way of setting up a loyalty program is by using Stamp Cards. With stamp card loyalty programs, you can provide digital stamps to your customers whenever they shop from you. Upon collecting 'X' no. of stamps, they can redeem a reward.
To make it more valuable, you can also collect quick feedback (eg: star rating) just before or after awarding a stamp. This can help you gain a considerable amount of customer insights that might help you in redesigning your products for better experience.
4. Gamified loyalty programs with minigames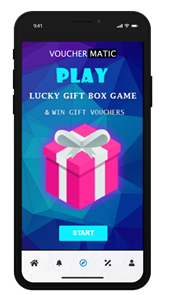 Gamification is the method of applying game-like features and elements into non-game context. 
Game elements, such as badges, scoreboards and so on can drastically improve a dull and repetitive process into a highly intriguing game-like activity. 
This can be very effective in capturing younger customers, such as millennials and Gen-Z, who are mainly digital and activity-driven communicators.
Periodic Gamified programs such a "Spin & Win" or "open lucky box" can not only provide a sense of fun and excitement amongst your customers, it also ensures that your customers are engaged with your brand.
Another reason why games in loyalty programs are highly effective today is because they contain addictive elements similar to real games.
Gamified loyalty programs are frequently seen in E-commerce businesses. For example, E-commerce platform Shopee use minigames, such as their version of Candy Crush, Shopee Candy. This helps them to engage their shoppers into playing more for coins. These coins can then be used in redeeming benefits, such as discounts.
In conclusion, We believe that in today's time, with a secure & flexible loyalty management system in place, you can create a sustainable & well crafted loyalty program.
What do you think about loyalty programs?
If you are looking to start your own, drop us a line on [email protected] to learn more on how we can help!