A popular lifestyle destination resort, offering world-class attractions, accommodation, dining, and entertainment options. The lifestyle destination resort has been recognized as the "Best Integrated Resort" for nine consecutive years since 2011.
During the lockdowns when Covid-19 still ran rampant, the Singapore government launched the SingaporeRediscovers campaign, distributing vouchers to Singapore citizens to incentivize local travel.
With its advent, many had taken up local tours and started going to local attractions. The resort sought to capitalize on this opportunity by implementing an off-the-self solution with high level of customization. The Solution is to:
Attract new customer segment (locals) for staycations
– Implement Incentives for signup for updates
Automate incentives to influence customer behavior such as
– use Kiosk for self-check-in.
– Spend more at retail outlets within the property
The following were the requirements set forth by the resort's marketing team:
Real-time issuance of e-vouchers via email
Use e-vouchers generated from various Hospitality, FnB & retail subsidiaries & partners as incentives.
Automated incentive issuance on membership sign-up completion
Automated incentive issuance on check-in completion
Incentive campaigns during holiday season such as CNY & school holidays
Real-time campaign performance data
Meet all the IT security checklists, mandated by resort's compliance team
Customization such as custom domain & customer interface as per their brand guideline.
Using Vouchermatic's voucher management module, the resort could upload multiple types of e-voucher codes from different restaurants and manage them seamlessly in the system.
The registration form was customized as per the brand guidelines of the resort and captured the required guest details (name, email, contact number) in a non-intrusive way. It also allowed the resort to capture consent of all guests who choose to sign-up.
Upon sign- up, guests were offered, in real time, e-vouchers to be used at the resort's dining establishments which helped achieve one of their main objectives – to grow sales for retail outlets within the property.
To add a layer of security, we implemented a one-time password (OTP) that could help validate the customer's identity before receiving the incentives.
The customer journey was contactless which helped the resort meet their covid protocols.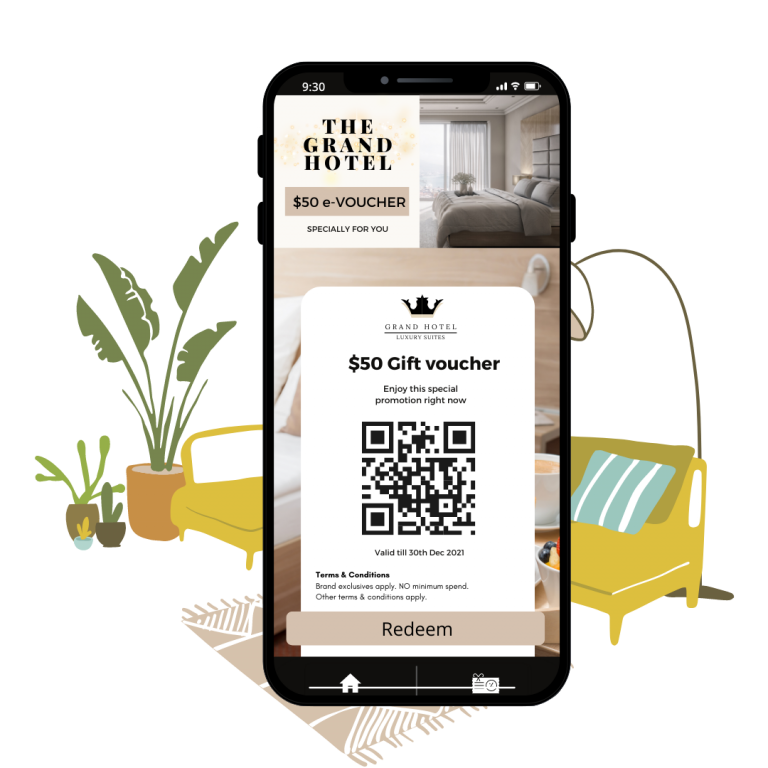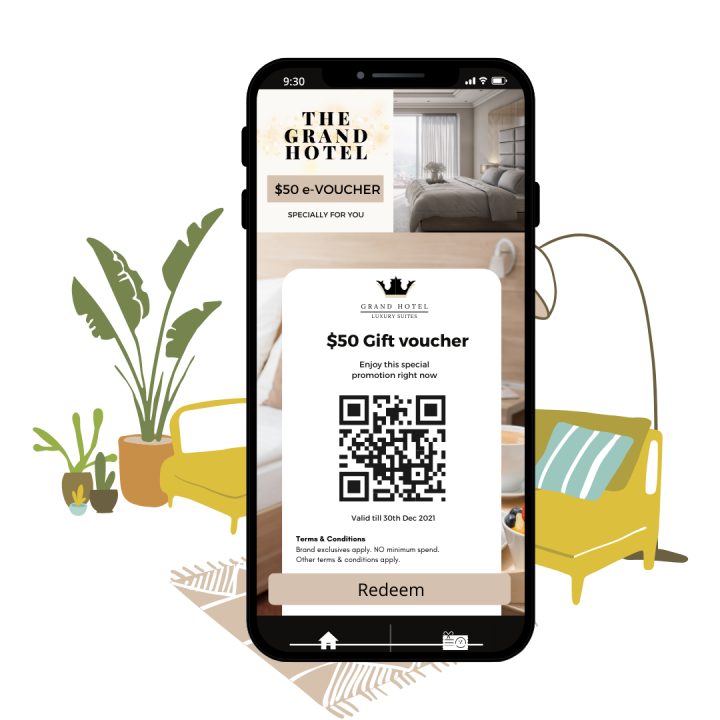 Using Vouchermatic, the resort attracted & acquired a new customer segment. The entire customer journey was automated without any need for manual verification or human interaction.
Rewarding people for signing up & using kiosk for check-in, with real-time incentives created a "wow" factor, boosting the newsletter uptake & saved manpower effort.
The data collected was exported via the xls and csv format, instead of needing manual entry into the CRM. This not only saved a massive amount of time, but also saved a lot of effort as there was no integration done. After the massive success of the first campaign, the resort is exploring real-time CRM update using Vouchermatic's webhooks.
The short expiry time on the voucher instilled a sense of urgency in customers, prompting them to visit and spend their vouchers at the dining establishments.
In summary we helped the resort achieve their objectives as follows:
Attracting new customer segment
Help grow F&B sales within the property
Grow newsletter sign-ups
Incentivize customers to use self-service kiosks.