In the midst of the Covid-19 pandemic, organising live lucky draws and giveaways can be a hassle.
This is especially challenging with recent social-distancing measures put in place to prohibit and reduce the number of live events. And we all know the social distancing measures are here to stay – if not forever, then at least for the next few years.
What if I told you we have a solution around this?
A digital solution that can help you digitise your entire lucky draw process. Here is everything you need to know about a Digital Lucky Draw system.
Essentially, a Lucky Draw is a game where participants stand a chance to win rewards and prizes solely based on luck- hence, its name.
Although Lucky Draws can be designed in different forms and come with its own set of rules, the traditional lucky draw usually involves a representative such as a host to reach into a jar of lucky draw entries and pick one out.
Prior to the draw, designated numbers are distributed to the audience or name cards are collected by the host.
The host then randomly picks a number or name card from the jar as the winner.
Nothing beats the thrill and suspense of anxiously hoping for your name to be picked, which explains the undying popularity of lucky draws globally.
With the advent of technology and the recent widespread pandemic, more companies are resorting to a digital space for organizing lucky draws.
A Digital Lucky Draw is a seamless, swift and effective method of conducting lucky draws online through video conferencing platforms or live streaming. Connecting both the audience and the company, digital lucky draws add to the excitement and engagement of winning prizes in this luck-based game.
Benefits of Digital Lucky Draw with Vouchermatic
VoucherMatic offers a Digital Lucky Draw features. You can use Vouhermatic to organise entertaining Lucky Draw virtual events and give away prizes to employees, customers, and your audiences.
1. Engaging activity for the audience
Virtual events of long durations can tend to get tiring , a digital lucky draw induces a sense of excitement and thrill of winning big & keeps the participants engaged!
2. Real-time Draws
A Digital Lucky Draw takes place in real time as all participants are logged into the video conference for the lucky draw event or watching it stream live.
Result draws are done automatically and play out in real time, adding on to the suspense of waiting for your name to roll out and appear on the screen.
As draws are taking place in real time, it provides participants a sense of involvement and interaction in the event as they would at a physical lucky draw event.
3. Customisation of the Lucky Draw Screen
Organising Digital Lucky Draw means that you have the freedom to customise the lucky draw screen to tailor to your preferences or to suit the occasion's theme.
As an example, let's say your company is planning to organise a lucky draw for a Chinese New Year Giveaway event.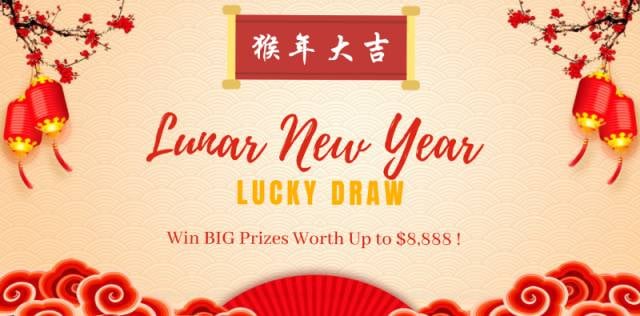 A Digital Lucky Draw system would allow you to easily customise the colours and design of the lucky draw screen to suit the CNY theme.
Moreover, you can also customise the lucky draw screen to match your brand image, making the event a meaningful occasion.
4. Customer Data Acquisition
Through Digital Lucky Draw events, you are able to capture customer data.
During the registration for the event, customers are prompted to scan a QR code which will direct them to an online form seeking consent for their personal information.
Such personal information would include the customer's name, contact number and/or email.
5. Automated Alerts & Notifications
After the results of the draw are released, the winners of the lucky draw event will be sent automated email notifications, confirming their winnings at the event and other important details regarding redemption of prizes and more.
6. Swift and Efficient Registration
Thanks to the integration of online registration and QR code features, participants can seamlessly and swiftly register through their smartphones completely hassle-free.
7. Everyone Stands an Equal Chance of Getting Picked
Unlike the traditional lucky draws where a host reaches into a jar to pick out a paper slip, a Digital Lucky Draw uses a database to store names or numbers to generate results. Hence, each virtual entry stands an equal chance of being picked.
Conclusion
As we live in today's age of technology, companies are capitalising on digitalisation by implementing innovative and creative ways to conduct business.
VoucherMatic's Digital Lucky Draw system offers various benefits and features.
From its interactive & simple user interface and system dashboard to its efficient participant registration system, VoucherMatic's Digital Lucky Draw system ensures a smooth process for carrying out lucky draw events digitally from start to finish.
VoucherMatic's digital lucky draw system is the one-stop digital solution for your company's needs by offering a seamless, convenient, and efficient way of conducting digital lucky draws.
What are your thoughts about lucky draws going digital?