Retail Marketing
For your marketing campaigns to be successful today, not only do they need to be creative, but they also need to be timely & shared via the right channels in order to capture customers' attention.
Especially for Brick & Mortar businesses, to maximise the ROI, many businesses may choose to only incentivise their paying customers to thank them for their patronage and persuade them to return to your store, not just offline but online as well.
Today we will go through 4 different types of incentive campaigns that you can easily implement with Vouchermatic for your brick & mortar business:
1. Promotional code campaign
A promotional code is a single coupon code, usually associated with a campaign's theme and is distributed to all customers. Over the short period of these thematic campaigns, online and brick-&-mortar shops will display promotional codes at the site's checkout page, attach them to emails sent to customers or display them on huge banners and posters on the storefront. These promotional codes can then be used by customers to enjoy special promotions when shopping online during the campaign period. A good example could be Christmas code campaign: XMAS2020.
2. Dynamic codes with Gamified incentives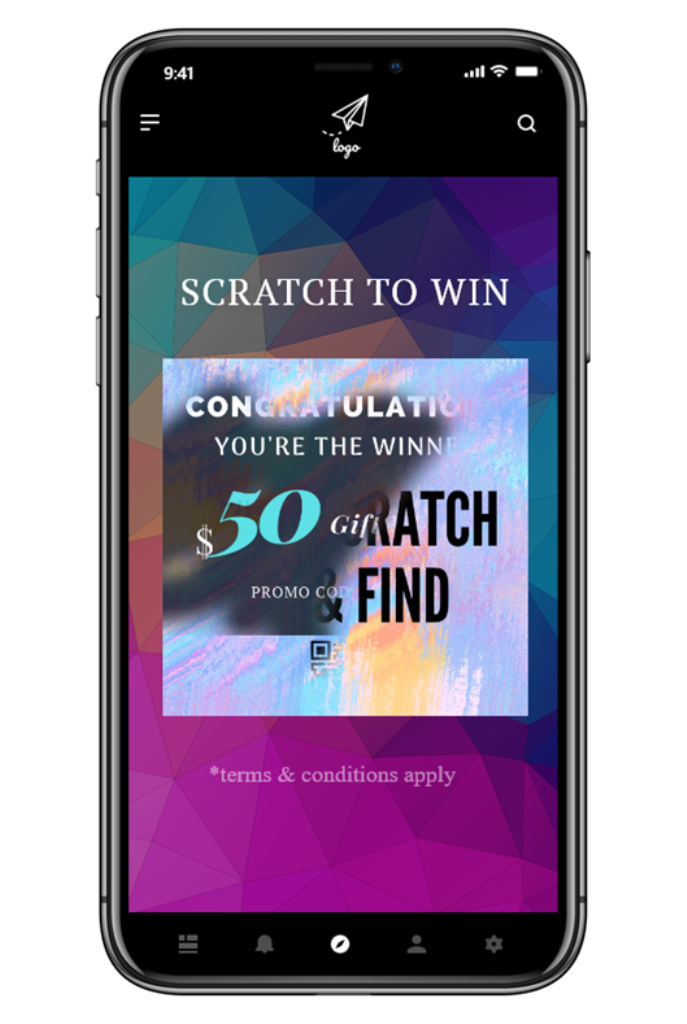 You can print QR codes on receipts, products, or simply at checkout counters for customers to scan. Upon scanning the QR code, customers will be directed to a game which they can play & stand a chance to win prizes. Vouchermatic allows you to set specific rules to your game such that the customer will need to keep within a limit of X number of spins/attempts to win a prize. For example, each customer scans the QR code, keys in their details and is entered into a Spin the Wheel game where they win a dollar value discount e-voucher or be notified to 'try again' if they lose the game.
Gamified incentives are a fun twist to traditional incentives and they engage digitally savvycustomers, especially Millennials by inducing an element of surprise and excitement for rewards thus, luring them back to your store on their next visit.
Through participation in interactive games to win rewards, customers feel a sense of achievement and recognition for their efforts. As such, this motivation brought about by gamified incentives will convert to high engagement levels, long-term brand loyalty and greater revenue growth for your store.
3. Lucky Draw / Giveaways incentive campaign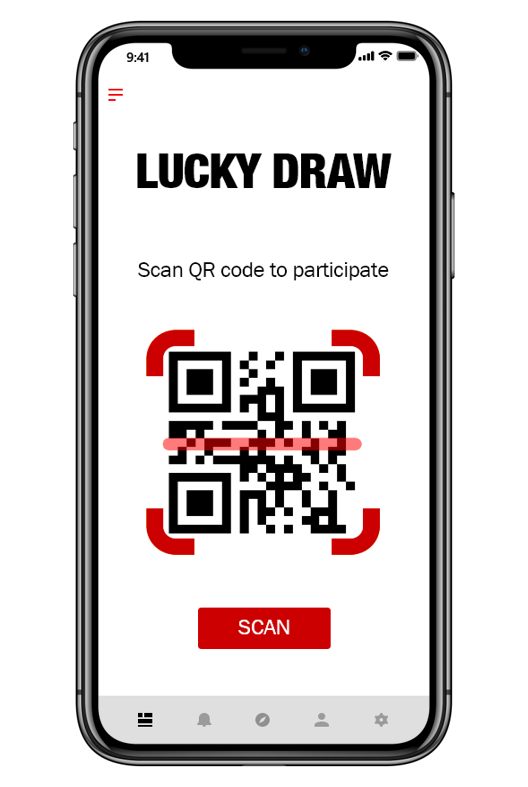 Another way to generate excitement for your customers is enrollingyour customers in giveaways & lucky draws. To validate that only paying customers are participating, you can make it mandatory for the users enrolling to key in their receipt number or upload an image of their receipt. This will ensure that only your paying customers are allowed to enroll into the lucky draw. With Vouchermatic, you can set draw rules and participation rules such as allowing only one entry per customer
4. Personalised code incentive campaign
Every business wants to be able to reach out to various customer segments together at one time; especially in retail.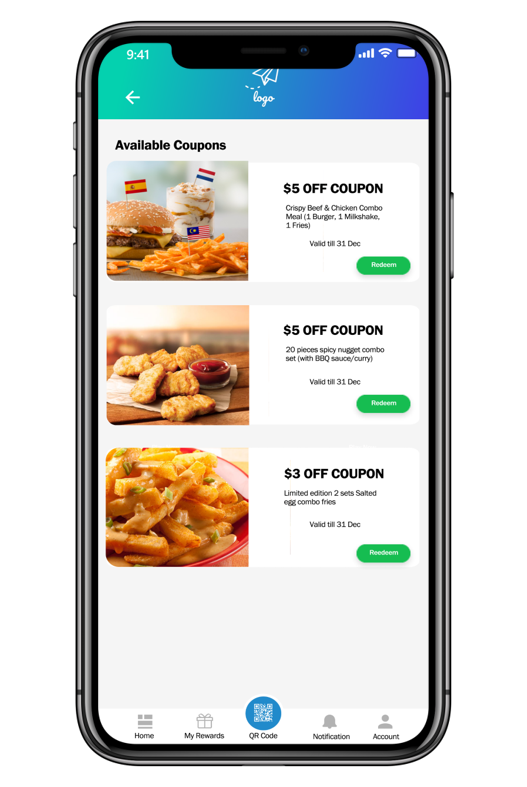 With Vouchermatic, you can run multiple value campaigns simultaneously. The value of the e-vouchers can be set to correspond with a certain amount spent by customers. For instance, you can issue lower value e-vouchers to customers who have spent below $XX and issue higher value e-vouchers to customers who have spent more. And this process can be automated completely when integrated with your ecommerce platform. One way brick & mortar stores can quickly implement a personalised campaign is to distribute personalised e-vouchers at the customer service counter when a customer presents their purchase receipts. For example, when a customer spends $80, he can claim an e-voucher by presenting his receipt at the customer service counter. The customer service officer will issue a $5 digital voucher via sms and also capture the customer's information like Name, Mobile number & receipt number. Likewise, if the customer has spent $30, he can claim a $3 e-voucher and so on.
5. Influencer Codes Incentive Campaign:
In today's society, people's mindsets, opinions and behaviour are greatly influenced by bloggers/content creators on various social media platforms that we call 'Influencers'.
An influencer's followers is more likely to trust a brand that is endorsed by none other than their idolised influencer. For that reason, businesses have turned to collaborating with influencers to promote their brand and its product offerings through distribution of unique codes to their customer base.
Vouchermatic provides a platform for Influencer marketing as it empowers bloggers, youtubers and influencers to share your incentives easily and in real-time. With Vouchermatic you can create specific deals for influencers to reward their followers with.
Vouchermatic makes it easy for you to track data in real-time as all customer information acquired by the influencers' as a part of your campaign. The e-Vouchers are fully trackable and stored in our highly secured system.
With Vouchermatic's voucher and coupon management systems, digital vouchers and coupon codes are sent instantly via SMS, email or in-app, allowing you to enhance customers' overall experience.
For instance, your influencer can display your incentive on their blog or social media post and the user will be required to enter their email or mobile number to earn an e-voucher, coupon code or other incentives. Shortly, the user will receive an automated SMS, email or in-app notification with a link containing the incentive which the user can then use to redeem at your shop when purchasing your products or services.
6. Stamp Card incentive campaign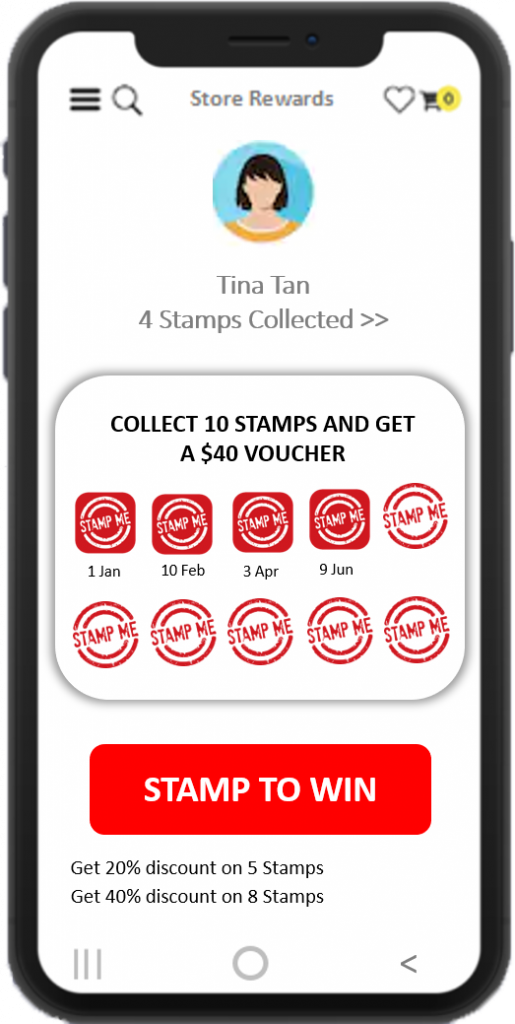 Vouchermatic's Rewards System facilitates customer loyalty & return visits. A loyalty program can be as simple as a Stamp Card Program where customers can collect e-stamps on their e-loyalty card for every purchase at your store and once a certain number of stamps are collected, they can redeem attractive prizes.
Other types of customer loyalty program you can explore with Vouchermatic are the :
Tiered Loyalty Program: The Tiered Loyalty Program involves three levels of attainment for customers and they receive more benefits as they progress higher.
Badges & Gamification Program : The Badges & Gamification Program entails customers to complete specific actions to earn badges that they can exchange for rewards.
Aside from gaining long-term customer retention, a Loyalty program is a good way to increase sales & patronage, gather customer data and enhance your B2C communication.
Conclusion
An incentive campaign can help not just retailers, but all businesses. Incentivization or rewards are a powerful tool for driving sales as well as building a strong brand image reinforced by your campaign message. The key to an effective incentive campaign is to motivate your customers to return to your store with an incentive they simply cannot refuse.
Besides, incentive campaigns can also be a ploy to convert new customers into paying customers. When utilised correctly, incentive campaigns can help you verify who are your paying customers and reward them for their patronage.
About Vouchermatic
Vouchermatic is your one-stop digital incentivisation solution that provides all the right Retail marketing tools to jump-start your incentive campaign. It engages customers and builds brand loyalty amongst your paying customers through marketing automation and gamification. If you are lost and need guidance on how to start incentivising customers, then look no further. Vouchermatic is the answer for your incentivisation needs