Customer
A Singapore government organisation that ensures that the convergence of infocommunication and media sectors is seamless in all aspects.
Objective
The organisers organized a festival focused on digitalisation. Within the event there were multiple booths by technology companies to showcase their products for the general public.
To help the companies maximise their ROI, the organisers needed to encourage event participants to visit as many stalls as possible.
Moreover, the organisers needed proof that their event was effective in engaging a lot of customers.
Requirements:


The organisers wanted to offer an incentive to motivate participants to visit the booths.
As the event was filled with activities, the organisers needed a quick way for participants to sign up, engage & redeem the incentives.
Separate incentives were needed for a more segmented approach: rewarding participants who had time, and also those who didn't.
A white-labelled solution to be consistent with their branding.
Solution

Vouchermatic enabled the organisers to create a digital Stamp Card game for the event. Our voucher management system was incorporated into the digital Stamp Card—participants worked towards receiving rewards managed by Vouchermatic.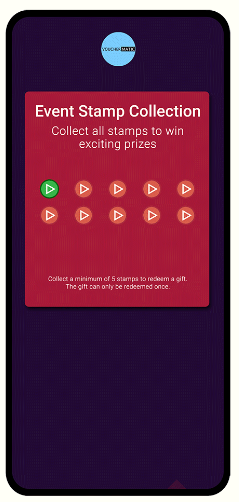 Participants could sign up to use the digital Stamp Card via a QR code, which is a quick method to take them to that web page. Data consent was collected during signing up from all participants.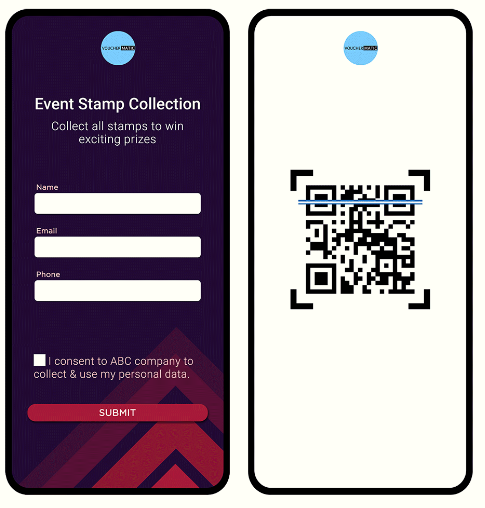 To target the two segments of participants, milestones were introduced. Participants could earn one prize after obtaining 5 stamps, and a second after obtaining 10. Event participants who did not have time could collect 5 stamps and still redeem a reward, whilst those who did could collect 10 stamps and redeem a higher reward.
Result:

Thanks to the digital Stamp Card, participants were aptly engaged as they visited the various booths and spent more time at the event.
Furthermore, the tech companies who participated also had a greater chance to meet potential customers who may be interested in their products. They interacted more with participants and that resulted in greater brand exposure.
The digital Stamp Card also gave the organisers a metric they can use to measure the customers' engagement levels. Each stamp constitutes one booth visited—by totalling the number of stamps, they have an idea of how many times a unique customer visited a separate booth.
Summary:
We helped the customers achieve their goals by…
Giving the participants an incentive to visit the booths using a digital Stamp Card and rewards.
Using a QR code to link participants to the Stamp Card, allowing quicker access to it.
There was no need for any app downloads nor for the participants to save any pages. The digital stamp card was entirely online and could be accessed as long as the participants had a smartphone.
Implementing a milestone concept to target two separate customer segments.
Giving a white-labelled solution for consistent branding.