We are thrilled to announce that our company has achieved the prestigious CSA Cyber Essentials Mark certification, solidifying our commitment to ensuring robust cyber security measures. This certification serves as a testament to our dedication in safeguarding our customers' data and maintaining a secure digital environment.
Ensuring Cyber Security:
At Inventrik, we prioritize the protection of sensitive information and strive to stay ahead of evolving cyber threats. Our attainment of the CSA Cyber Essentials Mark certification reinforces our commitment to implementing industry-leading cyber security practices.
We understand the importance of maintaining a secure environment for both our organization and our valued customers.
What is the Cyber Security Certification?
The Cyber Essentials Mark is a cybersecurity certification developed by the SG Cyber Safe Programme for Organisations. The primary goal of the Cyber Essentials Mark is to assist Small and Medium Enterprises (SMEs) in identifying and prioritising the necessary cybersecurity measures to protect their systems and operations from prevalent cyber-attacks. It also aims to acknowledge organisations with strong cybersecurity practices
The Cyber Security Certification certification signifies that organisations have implemented fundamental cyber hygiene measures. It acts as a visible indicator that the company has implemented effective cybersecurity practices to protect our operations and customers from cyber-attacks.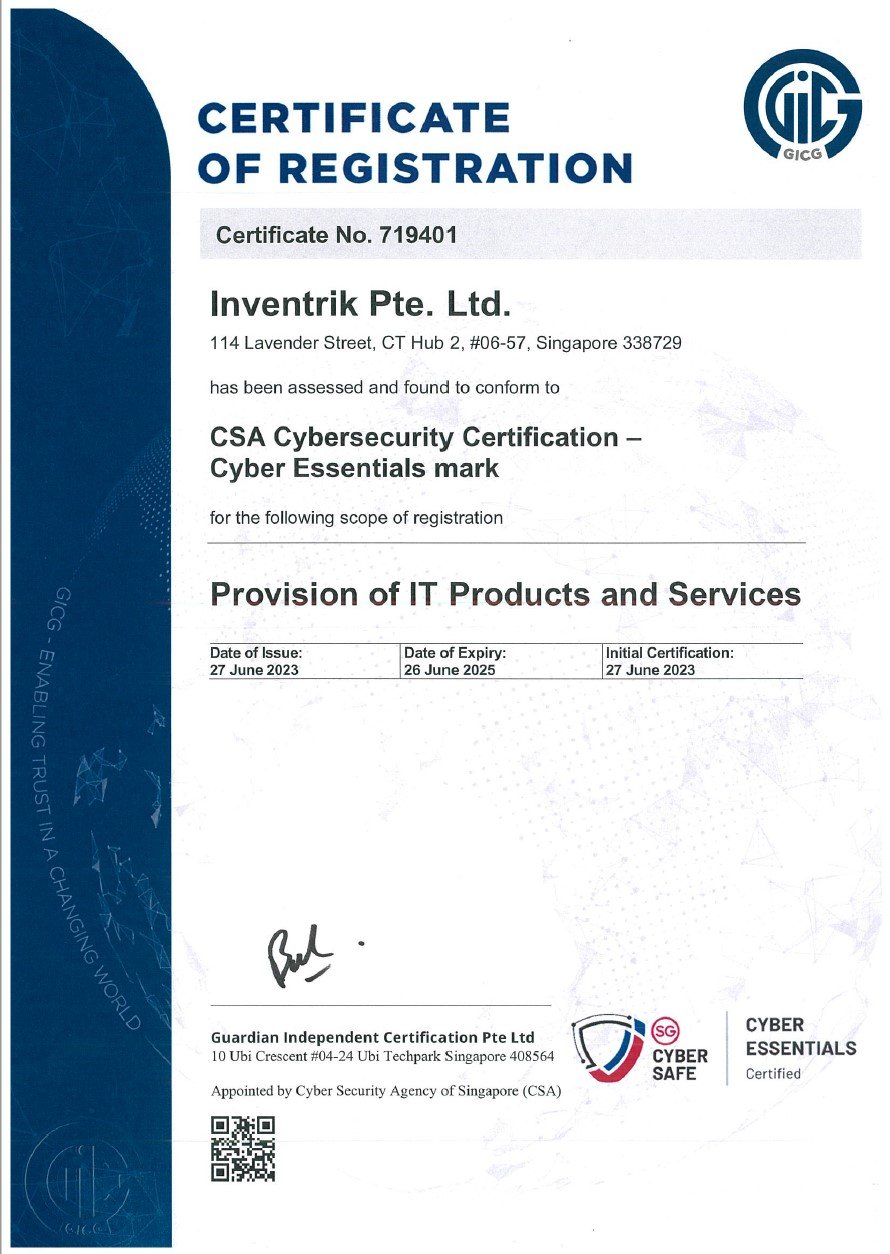 Dedicated to staying vigilant

With this certification, we aim to further strengthen our position as a leader in the industry, providing our customers with peace of mind and the assurance that their information is secure. We remain dedicated to staying vigilant and proactive in adapting to emerging cyber threats, ensuring the highest level of security for all.
For more information about our commitment to cyber security or any other inquiries, please don't hesitate to contact us.