If done well, loyalty programs can help drive more frequent visits and heavier purchasing. More than 72% agree that, all other factors equal, they'll buy from a retailer with a loyalty program over one without." – Global Retail Loyalty Sentiment Report (Nielsen).
Advantages of a Customer Loyalty & Membership Management System during economic disruptions
Brands that invested in insight-driven customer loyalty programmes with membership management system capabilities were able to respond swiftly to the changing economic landscape during the catastrophic economic disruptions of 2020.
Most businesses came to a grinding halt, some never to recover. But brands like Amazon Prime, Costco, and Grab (Singapore) continued engaging and adapting to their customers' changing needs due to data insights giving real-time updates on their customers' purchasing journey.
These brands and many others demonstrate the value of insight-driven incentive loyalty programmes to promote multi-channel engagement and building meaningful customer relationships.
The added advantages of an Incentive and Customer Loyalty Programme
Customer engagement became the biggest challenge as organisations' marketing strategies were rendered ineffective. The good news is that the digital economic marketplace presented new opportunities for mid-level and start-up organisations to enter the race for winning customers' attention and favour during and post-lockdown.
A loyalty programme allows your business to collect valuable data from your customers, keeping you informed about their unique buying trends, changing needs, and social media preferences to provide seamless, personalised omnichannel engagement.
It serves a dual purpose as a customer relationship strategy as well as embracing future market disruptions. The magic of a well-orchestrated loyalty programme is that it will retain existing customers and attract new ones.
Define your 'Why' for implementing a loyalty programme
You need to be ruthlessly honest in answering your 'why'. If you're simply following a popular trend and because your competitors are running a loyalty programme, you could be setting yourself up for failure. There are some critical analyses and strategic thinking that need to go into the planning stages.
A successful loyalty programme must be unique to your business objectives and your customers' real-time needs and purchasing trends. Consistency, superior-quality products and personalised services play a key role in building strong customer relations and increase Customer Lifetime Value (CLV).
How well do you know your customers?
Knowing your customers is the most important aspect of your business strategy to increase your customer retention rate and to grow and scale your business. In a digital age of advanced technology, sophisticated software, multiple social media channels, and blog posts it's never been easier to engage with your customers.
Investing in advanced membership management software with built-in predictive analytics will enable you to know your customers' needs, buying trends, and priorities ahead of time.
This approach will translate into increased repeat purchases and brand advocates, giving you a winning edge in a hugely competitive market.
Studies have shown that acquiring a new customer can be pretty expensive – 25 – times the cost of retaining an existing customer! On the other hand, if your customer retention rate increases by a mere 5% it will impact your profit margins anywhere between 25% and 95%.  
Why customers will share their personal data with your business
Consulting firm Accenture Interactive, in their 2019 report, cited 73% of customers (compared to 66% in 2018) saying that they will gladly share their data with a business if there is total transparency. Customers also realise that their personal data is a valuable commodity to businesses and they expect something in return for it.
A well-executed, unique customer-centric loyalty programme should provide a fair exchange for your customers' personal data and make them feel appreciated and valued.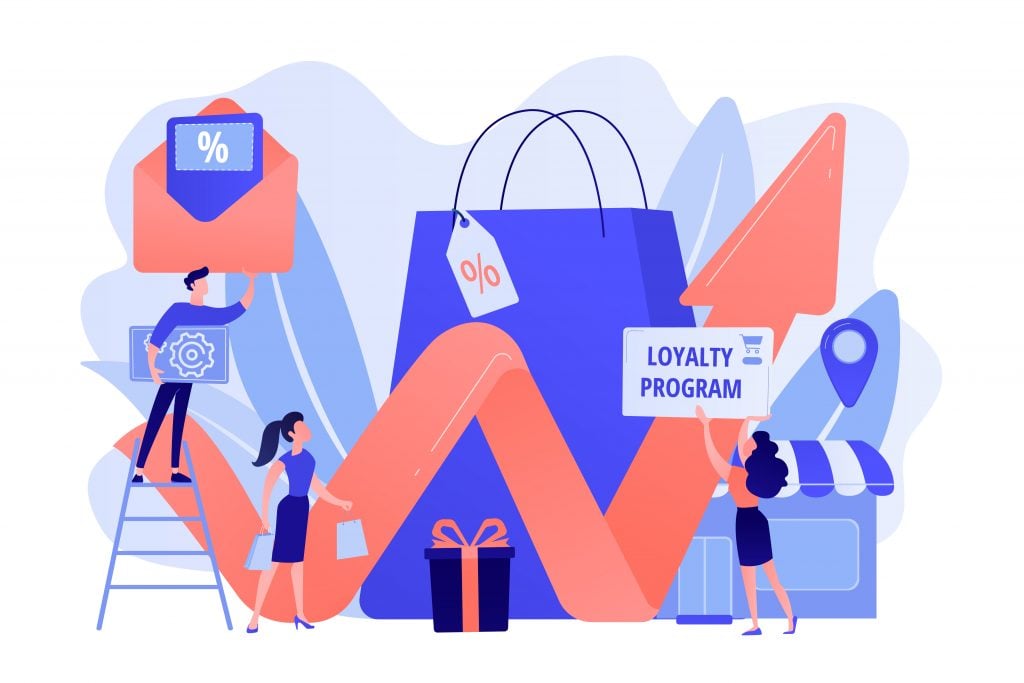 Protection and securing of customers' datas
It's sad that in a recent survey, 79% of consumers expressed grave concerns about privacy issues and data security. An alarming 35% of consumers reported multiple data security problems in 12 months. This included data and identity theft and computer viruses. In an era where cybercrime has escalated to new levels, it's imperative that your business remains vigilant and ensure secure processes are in place with regular monitoring and updates to safeguard your customers' data in your possession.
Blake Morgan, Forbes writer and author of the bestselling book, 'Customers of the Future' shares the following 5 Data Security Strategies for businesses.
How will you ensure your loyalty programme stands out from others in the market?
With fierce competition in the market, your brand should have a convincing unique selling proposition (USP) to retain and attract new customers to your business. Customers will make a quick comparison with their other brand 'favs' and decide if your programme offers sufficient personal value for them to share their details with you.
Remember, modern customers are tech-savvy and will also evaluate whether your loyalty programme is practical, feasible, and scientifically sound. Including gamification features for high-value members would go a long way in retaining customers who continuously demonstrate loyalty to your brand. 
Once again, knowing your customer's personal wants and needs come into play. Customers are spoilt for choice and expect a well-balanced 'mix' of rewards with various fun elements to make their experience more personal and meaningful.
Programme rules and Communication
A loyalty programme shouldn't have confusing, complex rules that require a legal degree to interpret. As we say in marketing, 'keep it simple'! All that customers want to know is how they earn their points, how to redeem them, and, 'what's in the gift box for me'? 
Train every employee in the company to know the rules, rewards, and status tier system so that they understand and can answer any question customers may ask about the programme. Customers will gravitate to the brand where they receive personalised, superior services, seamless experiences, supported by generous incentives and rewards. 
Why you should consider a SaaS Membership Management System
Let's consider that mid-level businesses lose 15% of their customers per year and the total loss to businesses as a result of customer churn is estimated at an astronomical $1.5 trillion per year according to US research. It makes sense that brands should apply exceptional creativity to retain existing customers.
The stakes for loyalty programmes are at an all-time high but it's also expensive to build your own platform. However, in an uncertain global economy, subscribing to an affordable automated membership management platform to simplify administration is a better option for businesses to provide your customers with the consistent real-time, personalised, unique service that they desire.
With Vouchermatic we can help you scale your business to the next level with our modern Membership Management System deployed on SaaS.
As an API first platform, you can seamlessly integrate with any other applications that your business is currently using. Get in touch for more info!
Feel free to chat
Feel free to chat with us today and let us help you turn your ideas into reality! learn more